About Lisa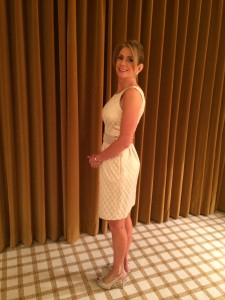 Lisa is a mother and wife who spent 20 years working for a national financial services company.  The last 15 of those 20 years were spent as a Regional Vice President which required traveling overnight approximately 9-15 nights a month.  This caused her to be away from home 2-3 nights a week almost every week.  While she loved her job, after starting a family that travel schedule was starting to take its toll.  So when her son turned 6, Lisa decided she wanted to "retire" so she could be at home to spend more time with her son and husband.  So Lisa and her husband figured out a financial plan that allowed her to "retire" the following year.
Shortly after "retiring" in her early 40's, Lisa began to pursue one of the passions she has had throughout her entire life – Health and Fitness.  Lisa has always been active and involved in sports and fitness.  In high school, she ran track, cross country, played softball and basketball.  She still holds the assist record at her old high school.  Lisa was already heavily involved in her local YMCA through attending fitness classes and enrolling her son in youth sports programs.  Since Lisa already enjoyed taking a variety of YMCA fitness classes such as spin, cardio and Yoga, she decided to start teaching them.  She became a Certified Fitness Instructor and now teaches 3 classes a week (spin and cardio) as well as substitute teaches for other instructors.
Even before becoming a Fitness Instructor, Lisa was always health conscience and was careful about what she ate and also what she fed her family.  Over the years she had done a lot of research into healthy eating as well as into nutritional supplements and fitness supplements. When she traveled extensively, she always struggled to find healthy eating options.  That is when she discovered Arbonne's Nutritional Products.  Lisa had tried a variety of different meal replacement products but found she loved the taste of Arbonne's shakes and she loved the fact that Arbonne's products are made with non-GMO ingredients that are vegan, have a low glycemic index and are gluten free.  The more she researched Arbonne's nutritional products, the more she fell in love with all of their products including their cosmetics and skin care product lines.
Lisa found that after many of her classes, participants would approach her with a variety of health and fitness questions.  But one of the most frequent was how to lose weight. Lisa would share her eating habits with class participants who would ask.  She would talk about things which were important to her such as eating healthy, home prepared food and avoiding processed and refined foods with lots of unneeded sugar, carbs and sodium.  Lisa found that many times after telling class participants who asked about Arbonne's nutrition line, many of them would ask what products they should start with as well as ask where they could buy them.  After referring numerous people to someone else to purchase their Arbonne products, Lisa realized she should become an Independent Arbonne Consultant so she could provide the products directly to those seeking her help to become healthier.
Since becoming an Arbonne consultant, Lisa has become intimately familiar with all of Arbonne's products including their skin care, cosmetic, nutrition and supplement products.  She only promotes and recommends products that she has researched in-depth and which she uses for herself and her family.
If you are interested in learning more from Lisa about Arbonne and what they have to offer, please feel free to email her here.